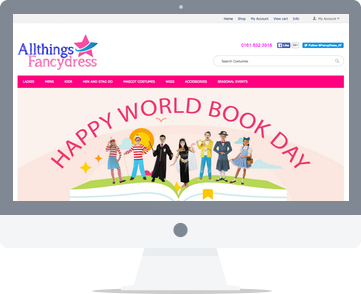 Allthingsfancydress.co.uk is the online e-commerce website for All Star Costume Hire based in Manchester. SEO MCR was contacted to help resolve issues with the existing e-commerce site and its presence within the search engines. Within a month the website was re-structured, page speed was significantly improved and the website had 135 top target keyword improvements.
Improve page speed and site performance

Generate more traffic and sales for both the website and the shop
The website was restructured, images were made larger, file compression was used to make the website faster. Url structures were change and file compression was used to achieve faster page speeds. In addition consistent social media work has been undertaken by SEO MCR to help raise the client profile with daily links back to the parent site.
SEO MCR re-focussed keyword strategy based on in depth keyword research and a more localised SEO approach. Website main navigation was restructured and every page was given its own specific keyword importance so as that Google (and other search engines) understands the relevance of every page.
The website is built using a low cost e-commerce engine, unfortunately it also has its limitations in terms of what you can do with the styling. Our challenge was to restructure the website and ensure it was fully SEO optimised for better presence in the search engines
The website is now Google No.1 for 'fancy dress shop Manchester' and page 1 for 'fancy dress hire Manchester', both the shop and the e-commerce site are generating more business.