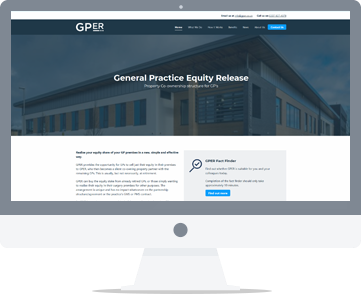 GPER is a niche company offering GP's the opportunity to release the equity share of their premises – usually at the stage of retirement. It is a much easier and simpler way for GP's to overcome issues associated with succession planning and recruitment. They contacted Dale Street Digital to help integrate modern technology with their website, and also generate more business based on search engine ranking and presence.
Improve the user experience and on the website

Increase presence online through an improvement in Google ranking

Generate a sustainable level of business
We conducted in-depth keyword research to discover the words that people search for when looking for this very niche service, and then we ensure the content on the website was optimised for these keywords. We also optimised the website for user experience to give them what they wanted to see and also to facilitate enquiry making in as few as clicks as possible.
To keep the website as simple as possible for people to use, while attracting relevant search traffic.
The business has achieved sustainable growth since beginning to work with the Dale Street Digital team, and are attracting qualified leads that they are turning into large scale investment opportunities.