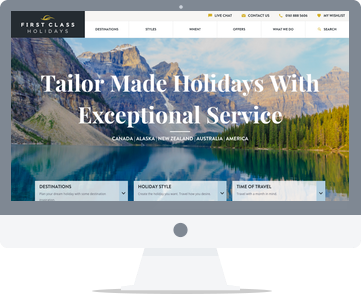 First Class Holidays are an award winning, independent tour operator specialising in tailor-made and organised touring to Canada, Australia, New Zealand and the USA. They came to Dalestreet Digital needing help improving their Search Engine ranking and website traffic.
Improve rank for Key Search Term
We worked with the business to determine their key audience and underwent in-depth keyword research to identify the best strategy to take forward. In addition, we worked on improving on-page optimization as well as off-page.
FC Holidays are a long-established brand and were looking to increase the traffic to their website in order to generate more qualified leads and sales. As a brand in a very competitive travel industry, they were struggling to rank for keywords and to retain visitors on the website.
We have been able to increase FC Holiday's website traffic and rank higher for identified top keywords. Since they specialize in Canadian tours, we have been able to really focus on improving their website traffic for particular destinations.